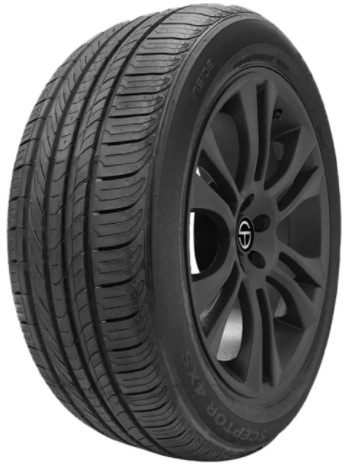 Do your car tires freeze to the ground every time it snows in winter?
Ever have your over-inflated tires burst in a hot summer due to the extreme hot pressure?
Well, these are the two most common problems most car owners have to deal with in extremely cold and hot regions. Replacing tires with every season change is hectic and money-consuming. Deep inside, all car owners secretly hope for tires that can perfectly survive and thrive under all weather conditions, even when the roads are wet, or the streets are as dry and hot as hell.
And if you're one of them too, don't worry pal, cause we know exactly what you need. Wave goodbye to all the painful memories the poor-quality tires caused you before. The Sceptor 4×S tire is here to restore happiness in your life with an easy, smooth and comfortable driving experience.
You must be wondering, who makes Sceptor 4XS tires, right? Don't worry, they are not from fairy tales. The Spector 4×S tires are designed and brought to you by Nexen Tire, one of the top 10 tire manufacturers in the world. These tires have also been approved for global OEM production. In case you don't know much about them – this company is well-reputed for producing quality tires for the past 71 years.
Sceptor 4xS Tire Compared to The Best Car tires
The common thought that is likely to pop up in your mind is, is Sceptor a good tire brand?
Especially compared to top tire brands like Michelin Pilot or Goodyear?
Let's take a look at the Consumer Reports of 2022, Nexen Sceptor Tires are enjoying the fifth rank on the Top Tire Brands Report Card. If we consider the Amazon ratings, the Sceptor 4×S tires have more than 80% positive five-star reviews.
Are Sceptor Tires Any Good?
We are not going to bluff, but honestly, these tires perform well and are worth the money. The modern tread design of the tires will not only give your car a classy vibe but also enable your vehicle to handle all weather hazards like a pro. All thanks to its advanced anti-hydroplaning tech feature carefully set up by the manufacturers.
Oh another thing, the 4 straight wide grooves help to achieve better and faster-wet traction in regard to all pavement textures. This is a key factor since you will want your tires to be consistent on all road surfaces. This tire model also promises a 45000-mile treadwear warranty. Doesn't that sound great? Have we told you about the durability of the material yet? It's sturdy. It's long-lasting. The tires will definitely go a long way.
| | |
| --- | --- |
| Brand: | Sceptor |
| Manufacturer: | Nexen Tires |
| Manufactured in : | Korea |
| Tire model: | 4×S |
| Section Width: | 215 millimeters |
| Load capacity: | 2105 pounds |
| Tread Depth: | 12 32nds |
| Load Index rating: | 101.0 |
| Tire Aspect Ratio: | 70.0 |
| Rim Size: | 16 inches |
| Tire diameter: | 16 |
| Item weight: | 25 pounds |
| Maximum speed: | 130 mph |
| Speed rating: | H |
| Construction: | Radial |
Who is Sceptor 4xs Tire Best For?
Wondering if the Sceptor 4×S tires, made in Korea, are going to be suitable for you or not?
If you own a truck or an SUV car and have to generally drive over rocky rough grounds or bumpy roads with potholes, you'll benefit the most out of the Sceptor 4×S tires. These tires have been manufactured for passenger vehicles. That's why they ensured some high-performance features such as reduced road vibration and greater controllability over all types of road surfaces.
Sceptor 4xs Tire: The Good side and Bad side
The Good sides
The Bad Sides
Available sizes
It is very important to make the right size selection for your tires to enjoy smooth rides with optimal performance. If you pick the wrong size for your tires, it is likely that you won't enjoy enhanced safety and fuel efficiency. Whether your tires are going to have a better grip on the road or not, mostly depends on the tire sizes you choose for your vehicle. Therefore, to help you decide the correct tire size for your vehicle, we have prepared a size chart for you.
Here you go with the size guide chart for SUV cars:
13″ Rims:
14″ Rims:
215/70R14-96S
175/70R14-84T
195/70R14-91T
185/60R14-82H
175/65R14-82T
195/75R14-92S
P185/65R14-85H
205/75R14-95S
185/70R14-88T
15" Rims:
P205/65R15-92H
215/70R15-98T
P185/60R15-84H
P185/65R15-86H
205/70R15-96T
P195/60R15-87H
P215/65R15-95H
P195/65R15-89H
195/55R15-85V
P215/60R15-93H
P205/60R15-90H
16" Rims:
P205/55R16-89H
215/70R16-100H
205/50R16-91H – XL
P205/60R16-91H
P225/60R16-97H
P215/55R16-91H
P215/60R16-95V
225/70R16-103T
215/65R16-96H
235/65R16-103T
17″ Rims :
P215/60R17-95H
225/45R17-94H – XL
235/65R17-104T
P225/60R17-98H
P235/60R17-100H
205/50R17- 93V – XL
225/50R17-98V – XL
215/45R17-91V – XL
P225/65R17-100H
235/55R17-99W
215/50R17-95V – XL
P225/56R17-95V
P215/65R17-98T
18″ Rims:
235/50R18-97W
235/60R18-103H
P235/55R18-99V
225/45R18-95W
235/45R18-98V
P225/55R18-97V
What is our final opinion?
Sceptor 4×S tires can be the best budget-friendly partner for your vehicle for everyday smooth rides. We love how the tires don't compromise on its great performance even after years of usage. Be it be summer, spring or winter, no matter if the roads are muddy, bumpy, or rough, these tires are sturdy and durable enough to handle it all. If you want a long-lasting companion for your car, we don't know what else can be better than the Sceptor 4×S tires.
Just make sure to pick the right tire size for your car and see the magic happen. Happy driving!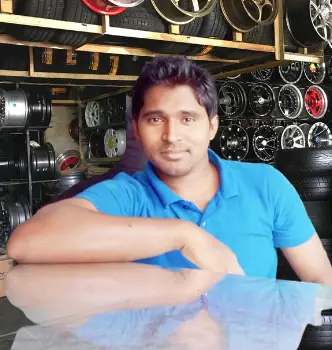 AR Jeet has been a tire mechanic for over 2years. He has worked on all types of vehicles, from cars and trucks to RVs and ATVs and motorcycles. He has seen it all when it comes to tires, and he knows how to fix them.
AR Jeet is a tire expert, and he is passionate about his work. He loves to help people keep their vehicles running smoothly, and he is always happy to answer any questions that people have about their tires.
If you need help with your tires, or if you just want to learn more about them, then AR Jeet is the man to talk to. He will be happy to help you out, and he will make sure that you get the best possible solution.
He has a blog [Tirespick.com] where he writes about all things tire-related, and he is always happy to help people with their tire needs. Know more about AR Jeet.