Is there a sodded area or not? Based on whether there is room and clearance for a smaller tire or not, the answer could be Yes or No. Regarding that, you can go for a 16-inch tire without any problems, but not when there is insufficient room and clearance for this, in which case you might need to provide your vehicle with a 16-inch wheel on your own.
When mounting or removing a wheel, keep in mind that you can add or remove it by a little more than an inch in any direction. You otherwise risk having suspension damage or issues with handling.
The reason is that the suspension on your car's frame and springs was made to support a particular wheel size, so any changes can lead to suspension damage and issues with handling when applied to your car.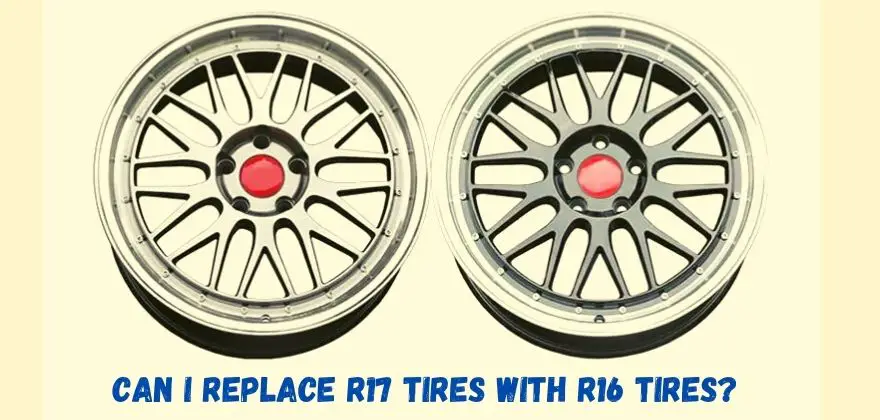 What Does R17 and R16 on Tires Mean?
It won't be surprising that a significant portion of car owners don't have the proper knowledge about letters and numbers marked on tires. However, they are quite important to identify tire specifications easily and quickly as well.
So, what does actually mean by R17 and R16 on tires? The "R" letter indicates that the tire in question is a radial tire in R17. Tires that are referred to as radial-ply tires, whose layers consist basically of fabrics like polyester and or nylon, generally run pneumatically along the length of the tire. This type of tire has additional layers that make it stronger.
Whilst, the number 17 means that this tire will fit in a 17-inch rim perfectly. In the case of R16, the letter donates the same thing as in R17. But The differences pertain to the brakes for tires made for rims with 16-inch diameter.
Things to Consider Before Replacing an R17 Tire with R16:
As we just have mentioned in the previous section that your car's suspension and springs were designed around the original wheel, and extreme changes can lead to suspension damage and issues with handling.
Therefore, you should be more careful while switching between R16 and R17. In this case, make sure to consider the following facts:
Check carefully whether the wheels you're going to use have the same pattern as your existing R17 wheels. To match these bolts, you check the # of bolts as well as the diameter of the hole circle.
Did you evaluate if your newly purchased 16″ wheels fit over your brake calipers and discs with at least 1/ 4″ clearance on all sides? It's quite likely that they do, but during a recent overall upgrade to modern cars, many vehicles have rather large disc diameters, so they need larger wheels. In that case, considering an upgrade to the R16 tire currently on the vehicle, one is not possible.
Make sure the new 16″ wheels bolt tightly to the hubs without rubbing against any of the suspension bits
Have you chosen new R16 wheels with the same-sized axle hole, which matches the diameter of the axle shaft, so that the wheel center carries the load of the vehicle, rather than the wheel lugs? If it fits between the hub and the wheel, the concentric rings you selected will act similarly to the hub and carry the vehicle's load.
R17 Or R16 Tires – Which One Is Right For You?
R16 wheels are more compact than R17 ones, which means that there are advantages and disadvantages for both types of wheels. However, some people dislike the smaller size of these tires because this can decrease ground clearance when driving to more off-road locations or possibly over rough terrain.
Deciding which form of the wheel is more effective largely depends on your vehicle type and what type of car you have. We'll quickly compare the relative pros and cons of these two types of top-down wheels.
Smooth Ride
In regard to purchasing or improving the ride quality of your car, tires are among the main factors that influence ride quality. Generally, an R17 tire means a rougher ride. The reason for this is that it has less tire and sidewall cushioning than many other tires.
If you frequently venture over bumpy terrain or like driving around on rough roads, R17 wheels might be perfect for you. These tires are designed to withstand sharp turns and to balance the tires to reduce the natural swaying of a vehicle. On the other hand, you may want to choose R16 tires for a smoother riding experience.
Grip and Traction
An R17 tire has a larger and more effective contact patch than an R16 tire. With this larger rubber area on the ground, there is better grip and traction when you push your vehicle from a stationary position or stop.
Braking
In general, R17 wheels require more braking power and in many cases necessitate more substantial brakes as they are larger and heavier. The ­R16 wheels of cars are easier on the brakes than the ­R17 variety because of how smaller they are.
Off-road Performance
When you're thinking about a tire capable of handling off-road conditions well, consider R17 tires with all-terrain or mud-terrain treads. These wheels offer great traction on off-road terrain and are capable of dealing with a wide variety of obstacles and bumps. They are also more substantial overall than the R16 tire.
Related Article:
Resources: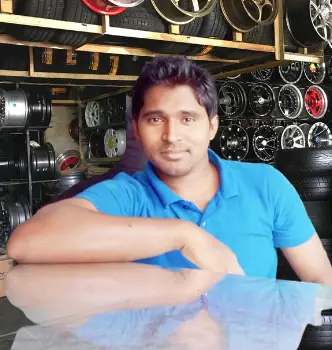 AR Jeet has been a tire mechanic for over 2years. He has worked on all types of vehicles, from cars and trucks to RVs and ATVs and motorcycles. He has seen it all when it comes to tires, and he knows how to fix them.
AR Jeet is a tire expert, and he is passionate about his work. He loves to help people keep their vehicles running smoothly, and he is always happy to answer any questions that people have about their tires.
If you need help with your tires, or if you just want to learn more about them, then AR Jeet is the man to talk to. He will be happy to help you out, and he will make sure that you get the best possible solution.
He has a blog [Tirespick.com] where he writes about all things tire-related, and he is always happy to help people with their tire needs. Know more about AR Jeet.