As we know, in today's market, both Toyo Open Country AT3 and Falken Wildpeak AT3W are getting top priority for replacement because they are comparatively decent in your vehicle.
The most appealing side of The Toyo Open Country AT3 is its excellent fuel efficiency. Its taller, more comprehensive, and lighter features provide a good guise. Additionally, it is terrific on wet or muddy trails and very hostile winter challenges.
Contrarily, Falken Wildpeak is more robust. It is better for your off-road ride. But superb for winter.
But, If you are becoming worried about which one best suits your vehicle, keep going with us to make your intelligent selection.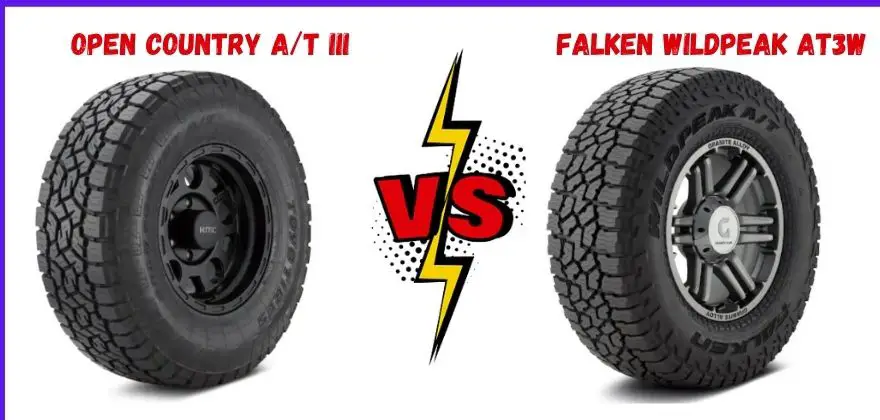 For your convenience, we are exposing a list of essential features below.
| | | |
| --- | --- | --- |
| Features | Toyo Open Country at3 | Falken Wildpeak at3w |
| Sizes | 127 different sizes | 69 sizes |
| Weight | Less heavy | Heavier |
| Warranty | A tread warranty of up to 65,000-mile | A tread warranty of up to 55000 miles. |
| Mode | Suitable for a gentle drive | Better for sharp, rocky, and rugged landscapes. |
| Cost | Relatively high-priced | Economic |
Toyo Open Country at3 vs Falken Wildpeak at3w
Ideally, both tires are high in quality. They can satisfy all of your roadie needs while driving. However, you have to choose one which suits your demands. For your convenience, we can compare them from different standpoints.
---
Categories of Usage
It is sure of your needs, for which performance you want. If you are in delicate use, it would be your best option to choose the Toyo Open Country AT3 because it works nicely in any mild project.
But if you are in challenging undertakings, the recommendation goes to Wildpeak AT3.
Comfortability
The specific compound feature ensures that the Toyo Open Country AT3 comforts you more.
The reason is the blocky pattern, big lugs, and rigid compound of Falken Wildpeak AT3W allow more bumps on rough roads.
Durability
While making an intelligent selection, durability is an important issue. In this regard, their performance is almost the same, except Falken Wildpeak AT3W is a little more durable.
Sizes
You can find Toyo Open Country A/T III in 127 different sizes in diameter. The range starts from 15-22 inches.
On the other hand, you can get the Falken Wildpeak which is available in 69 sizes in diameters. It ranges from 15-to 22 inches.
Weight Difference
You will get a significant difference in their weight. Comparatively, Falken is much heavier than Toyo. It may be almost 30% more than Toyo.
You know, heavy bodies give much durability and can work in harsh conditions.
Tread Appearance
The tread structures of Toyo Open Country AT3 are almost the same as Falken Wildpeak AT3W. A minor difference is that the outboard shoulders of Falken Wildpeak AT3W are broader. But it is noticeable. Sometimes it causes irregular damage.
On the contrary, the Toyo Open Country AT3 is taller in size, and its appearance is quite bold. In addition, its thicker sidewall is much more protective.
Noise Comparison
Now come to the noise attitude. Road noise becomes much more annoying while driving on the highway. It may happen for the lug-based design.
But if you are more sensitive about noises, then the ultimate choice goes to The Falken Wildpeak for its Silicon rubber compound in these tires.
Toyo Open Country AT3 is noticeably noisy at high speeds.
Vibrations
We can say, Both of these tires are very generous in minimizing vibrations while driving at high speeds.
But, for the Silicon rubber compound structure of Falken tires, your vehicle may experience fewer vibrations than the Toyo tires.
On-Road Capacity
We can judge here from the standpoint of steering, cornering, and handling the car.
Based on customer reviews, it is clear that the Toyo Open Country AT3 provides a better steering response than Falken Wildpeak AT3W.
So far, the broader shoulders of Falken are convenient for perfect cornering.
Off-Road Capacity
Here the recommendation highly goes for Falken Wildpeak AT3W.
Its trade design is that cleaning and gripping ability is noticeable for this. Also, impressive for rock driving. But,
Toyo Open Country AT3 is suitable for modest off-road conditions.
Wet Capacity
You can sort out this performance from wet traction. The wet performance of Toyo Open Country AT3 is outstanding. Its taller tires provide a great appearance.
Also, hydroplaning resistance is another issue of wet capacity. Relatively, the Falken's is not so good for hydroplaning resistance.
Both of them are adequately good on wet surfaces. But Toyo's goes a little bit more than Falken's. In these circumstances, the consideration is accessible for Toyo Open Country AT3.
Dry Traction
Their traction on dry surfaces is outstanding. Plus, you will get a perfect breaking length with them. But the Falken has more profound gaps between the tread blocks. It helps to
eject any debris that stuck for more excellent traction.
Winter Capacity
Both of them are 3-peak marking tires and sensations on snow. Toyo's winter performance is reasonable yet, for light snow in this admiration. But what about icy conditions? Yes, here Falken Wildpeak AT3W is an ideal one on ice. You will not be in trouble if you are in deep snow with Falken because its greater tread spacing helps to eject the snow and increase your traction.
It doesn't mean that The Toyo AT3 is not great at performing in the snow. They do but cannot manipulate deep snow intensely.
Warranty
Toyo Open Country AT3 provides:
Up to 65,000-mile tread warranty, which is for P/Euro-Metric sizes.
Up to 50,000-mile warranty, which is for LT and flotation sizes.
Trial opportunity but limits to 500 miles for Forty-five days.
Falken Wildpeak AT3W provides:
A tread warranty that is up to 55000 miles.
But no trial offer.
Prices
The Falken Wildpeak AT3W will not drain your wallet as it is cheaper than the Toyo AT3.
The price rates are:
The Falken Wildpeak -Depending on the size, it starts from US$137 and goes up to US$449,
The Toyo AT3 -It starts from US$600 to US$2000.
So from the above information, we can come up with a plan for the final selection. Okay, let's make a comparison at a glance.
Toyo Open Country at3 Wins
---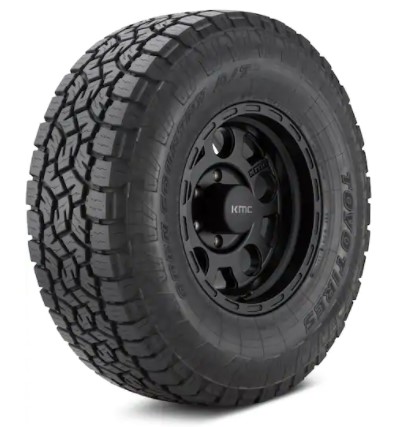 Traction: It has a great wet and dry on-road traction.
Comfortable: You will get a comfortable ride with them.
Tread feature: Its long tread life gives durability.
Wet performance: The Toyo Open Country AT3 is highly recommended for its wet performance.
Hydroplaning: You would get it more in the Toyo Open Country.
Warranty: Competitively Open Country provides a better warranty than Falken.
Toyo Open Country at3 loses
Price: More expensive
Winter performance: Deep mud and snow can get congested with them.
Noise: With the Toyo Open Country, you will get a noticeable sound while driving at high speeds.
Falken Wildpeak at3w Wins
---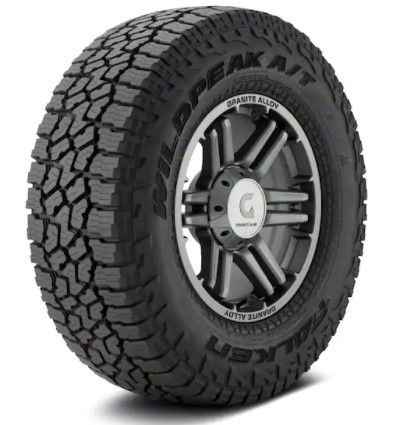 Season-friendly: Whether it is cold, extremely hot, or the rainy season, they perform excellently.
Dry traction: Its big lugs and opposing sidewalls provide excellent traction.
Durability: Falken Wildpeak AT3W is more durable than Open Country AT3.
Weight: It is much heftier than Toyo, almost 30% more.
Usage: Wildpeak AT3 is more trustworthy for brutal operations.
Off-Road capacity: It is an excellent robust tire with intense performance off-road.
Noise: The Falken Wildpeak has less noise for its Silicon rubber compound.
Tread construction: Extremely durable.
Winter performance: It can quickly go on ice and snow. Snow Traction is relatively better on Wildpeak.
Price: Wildpeak is cheaper.
Falken Wildpeak at3w Loses
Warranty: Comparatively less assurance.
Final Cut
---
Open Country AT3 or Falken Wildpeak? The determination is to choose them depending on your needs. And indeed, tire buying is not a straightforward process and can even be confusing.
As a whole, we can say these all-rounders tires are acceptable for all trails. You may get their outstanding performance on rough and rugged surfaces or smooth on-road. But mostly, recommendations come for Falken. Now, pick one of them to fit your necessities.
Related article: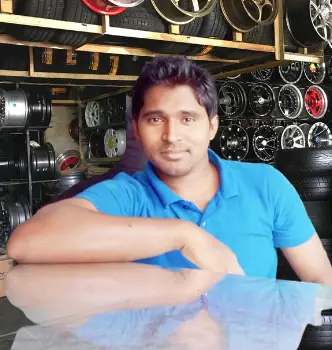 AR Jeet has been a tire mechanic for over 2years. He has worked on all types of vehicles, from cars and trucks to RVs and ATVs and motorcycles. He has seen it all when it comes to tires, and he knows how to fix them.
AR Jeet is a tire expert, and he is passionate about his work. He loves to help people keep their vehicles running smoothly, and he is always happy to answer any questions that people have about their tires.
If you need help with your tires, or if you just want to learn more about them, then AR Jeet is the man to talk to. He will be happy to help you out, and he will make sure that you get the best possible solution.
He has a blog [Tirespick.com] where he writes about all things tire-related, and he is always happy to help people with their tire needs. Know more about AR Jeet.